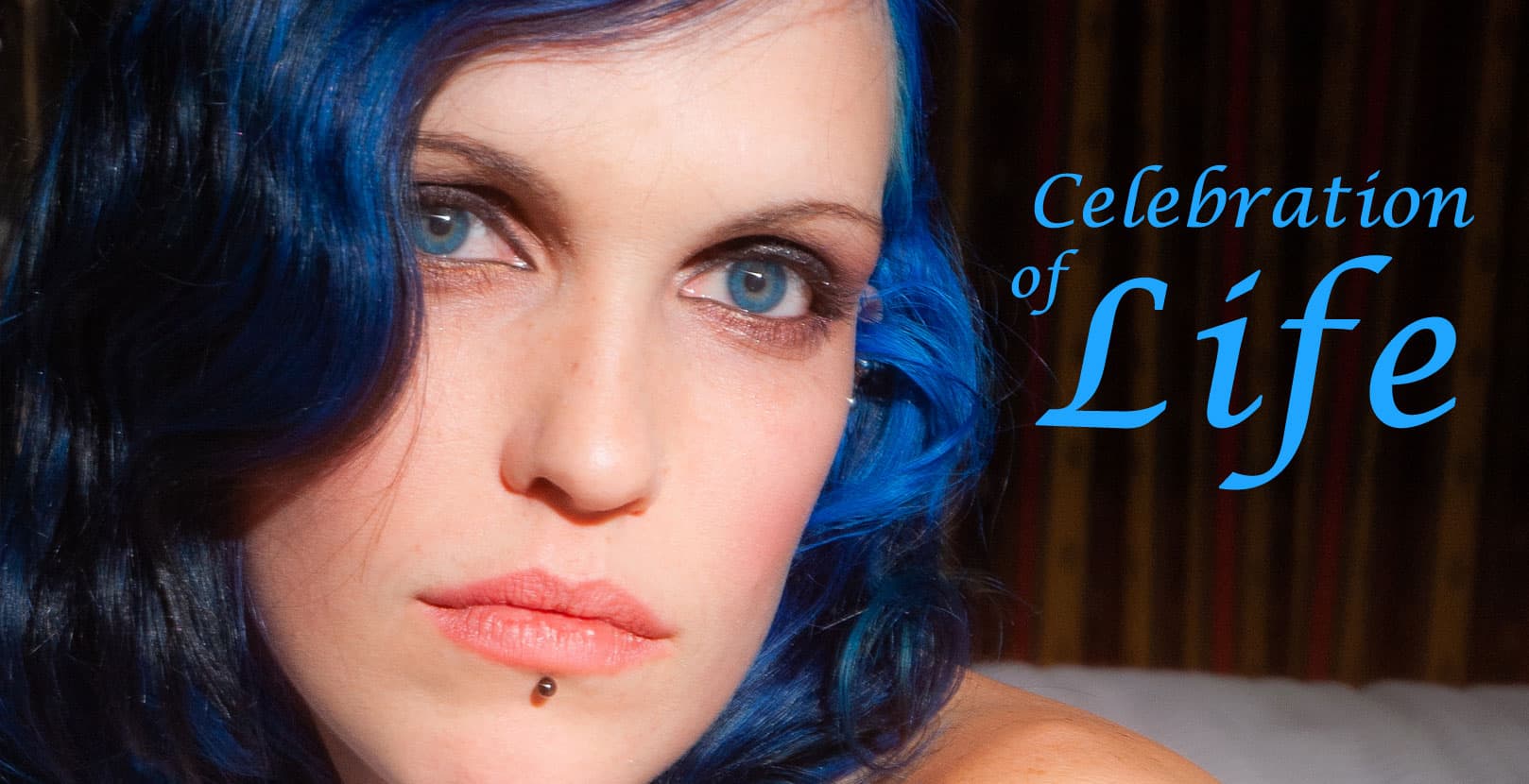 My sister Sarah Michelle Tarr lost her battle with alcoholism on January 4, 2019, after months of being ill and followed by three weeks in the hospital. It was a secret battle with alcoholism, as far as her immediate family was concerned, though after her hospitalization, her friends came forward to tell us they knew of her addiction. It was a very difficult time for me and my family, but we were comforted meeting so many of Sarah's friends. They all called her Jazzy, and we also tried to call her that, but in my heart she was always Sarah, my youngest and most spoiled little sister. Sarah was the cutest little girl you ever saw. She had huge eyes, so we called her Tweety after Tweety Bird. We also called her Binky after the pacifier she used as a baby. We all loved her so much.
Sarah wanted to be cremated, so we followed her wishes. We also decided not to have a traditional funeral, but together with her many friends planned a Celebration of Life on January 27, 2019, where everyone wore blue or rainbow and where her fellow hoopsters would hula hoop with fire. Well, the fire was nixed by the Urban Arts Gallery where we held the event, but her friends did regular hooping all the same. There was a pot luck food, blue and rainbow decorations, music, an altar where guests could place items that reminded them of Sarah, and an open mic to share stories. Friends secured the location and were there to set up. Other donated money to pay for the preparations. My sister Mary  created beautiful flower arrangements. I printed photos and created stickers to put on small blue cellophane bags that we filled with Sarah's ashes, as well as postcards that explained what to do with the ashes.
Sarah would have loved all of it. Now, finally, here are some pictures of the event.
Preparation
My sister Mary created beautiful bouquets for all the tables. She also brought candles for the tables.
I printed glitter-framed pictures for the tables.
I designed ash packets with two different saying, as well as postcards explaining what to do with the packets to give out to friends and family.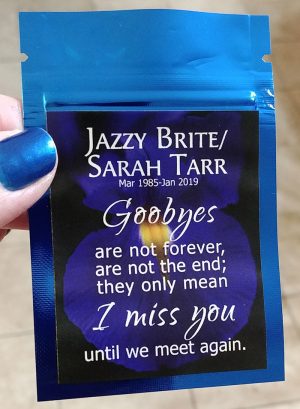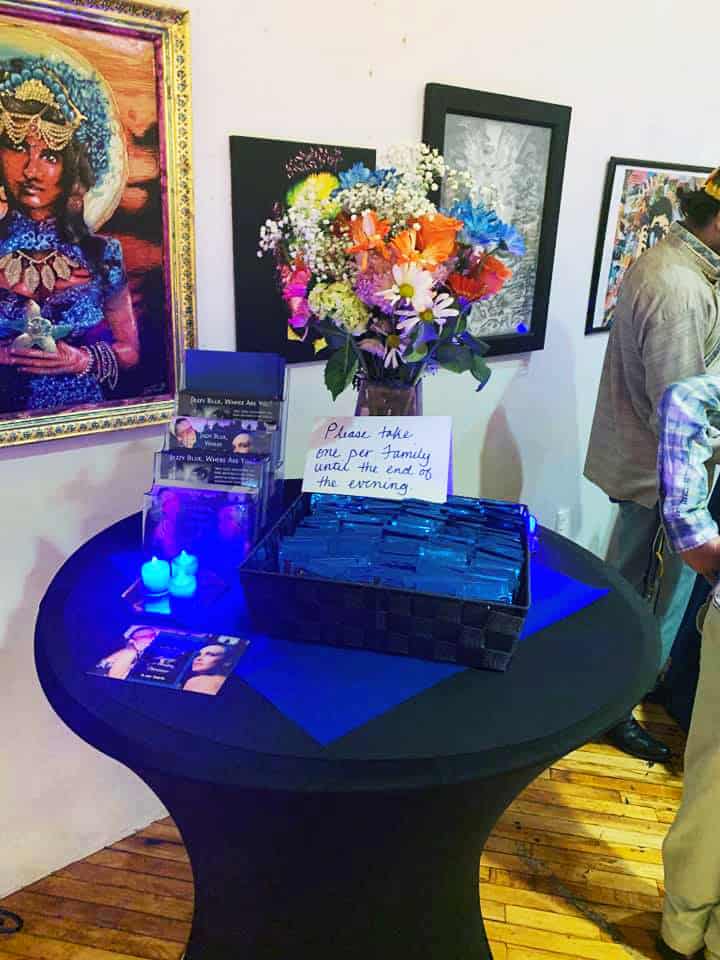 One of Sarah's friends created an altar to place mementos that reminded us of Sarah.
Everyone brought lots of food.
We dressed in blue or rainbow
Me with my two youngest daughters and with my sister, Deborah. The urn necklace all the five remaining sisters have to remember her. Note the blue in our hair!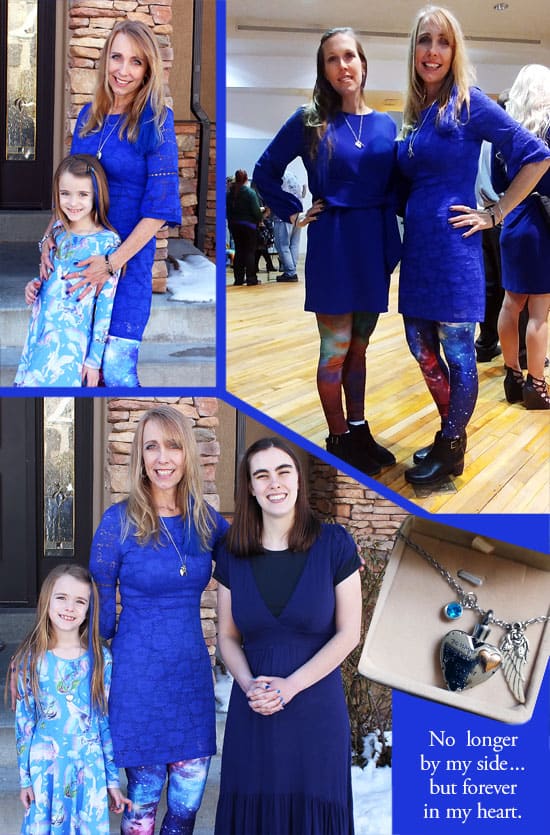 Deborah with her husband and two children below. Love the my nephews' hair.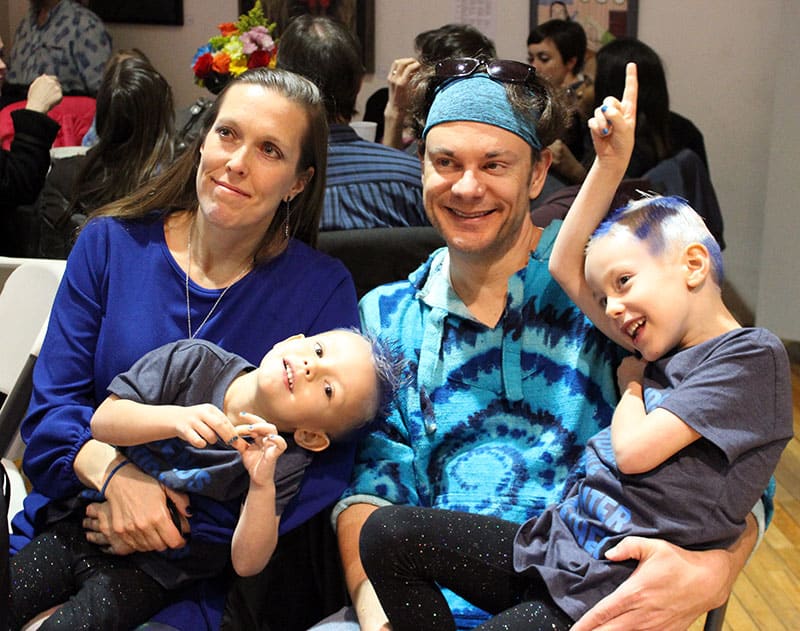 My sister Mary and two of her children. Mary is the one who did all the flower arrangements.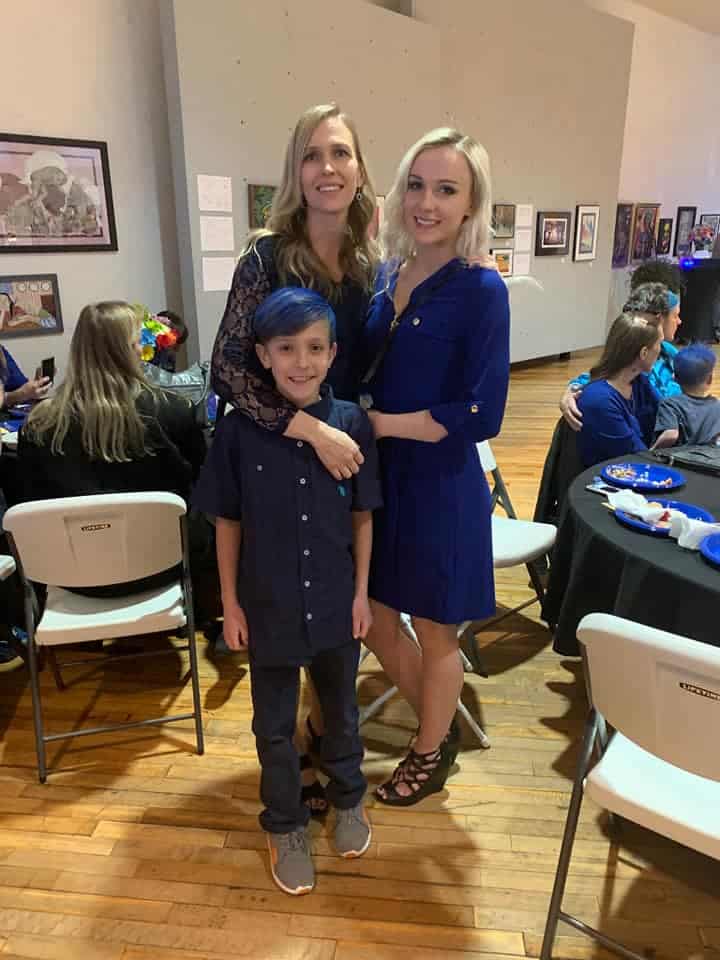 First we chatted and ate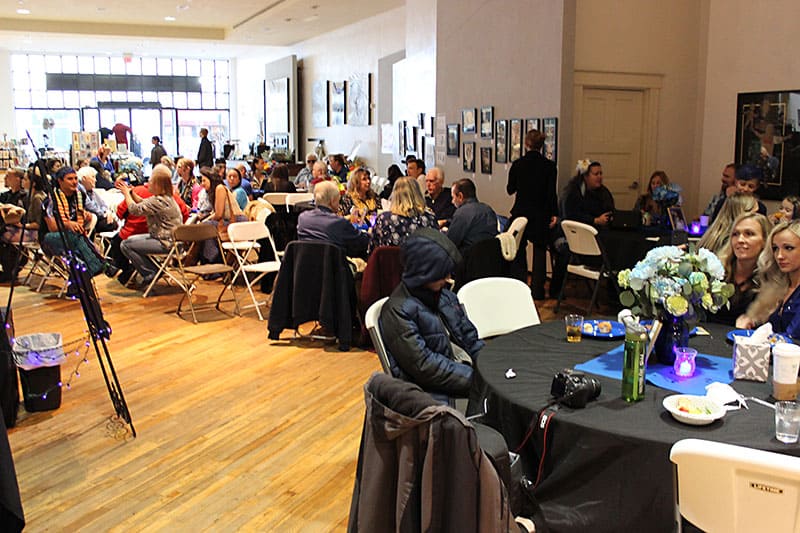 Below is my daughter Liana (dark hair) with my sister Ruth. Behind them is the table where my dad sat with his brother and his sister-in-law, and three of their children. My mom was there too, but she didn't end up in the picture.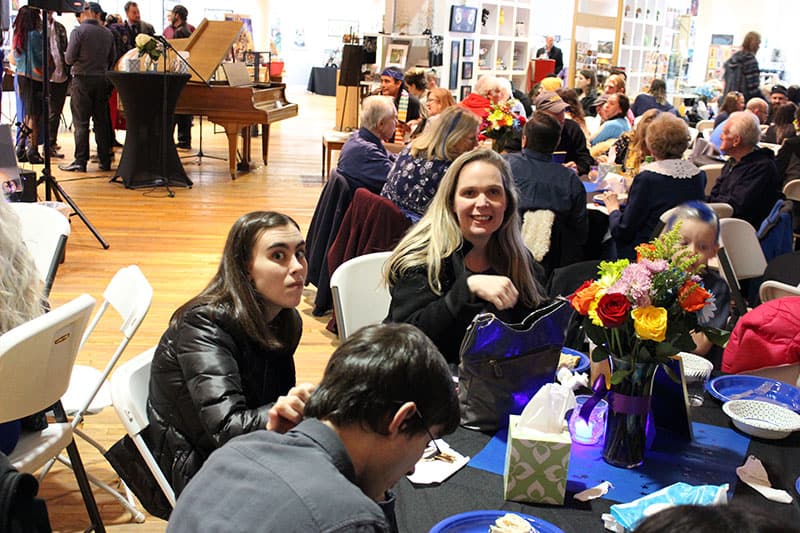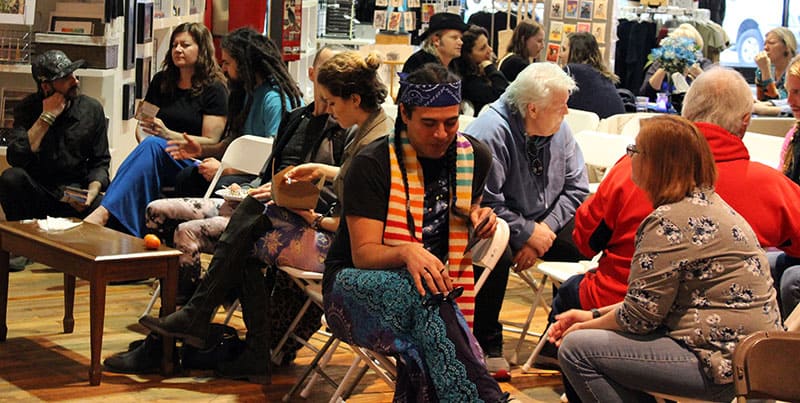 Slide show
We also watched a slide show with hundreds of pictures of Sarah that my sister Deborah put together. Below is my mother in the blue and white shirt sitting down in front of the big screen with Sarah's friends.
More family photos
My husband, TJ, and daughter Liana.
Me with my daughter Cassi and my sweet granddaughter and namesake, Rachel.
My son Kaiden with his wife, Lily. And granddaughter Rachel, on the left.
My cousin Becky and my dad. Also my son Jared (in glasses) behind my cousin giving me a weird look.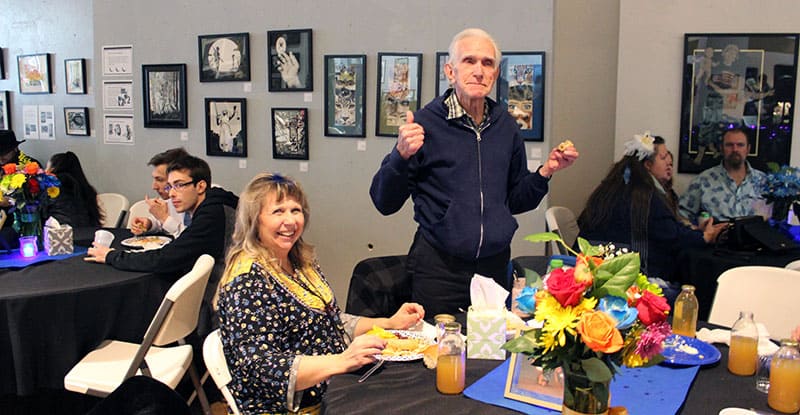 My cousin Mark, sister Mary, me, cousin Jill, brother David holding Sarah's dog, cousin Jill, sister Ruth, sister Deborah.
Sharing memories
We had an open mic to share memories. My dad is up there now. I was crying too hard by this time to do anything but sit and listen.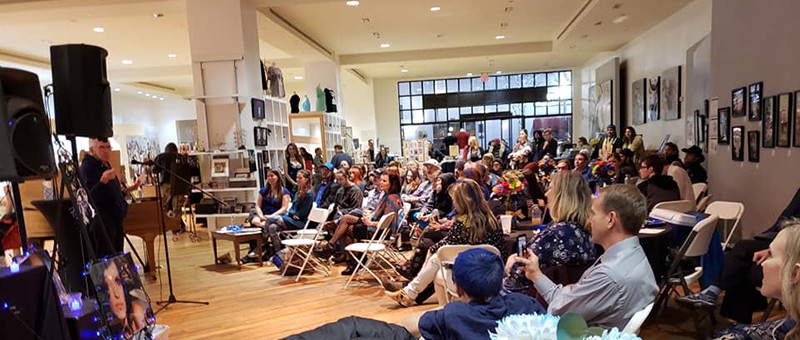 Then we had some hula hooping
Sarah loved to hoop, so the night wouldn't be complete without some hula hooping. Sorry the picture is blurry. I can't find a better one in my files.
In all, Sarah's Celebration of Life was a nice evening, with over a hundred attendees. I hoped it would be more comforting than it ended up being for me personally, but I was having a really difficult time. I wasn't ready to say goodbye, not at all. But I'm so grateful for everyone who was there and especially those who helped in the planning. I'm also so very grateful for the outpouring of love from my readers and friends.
Also, a week or so later I would find my comfort when I received a surprising gift that I never expected.
Thanks for reading!

Copyright 2019 Teyla Rachel Branton
Reuse notice: you are free to print Celebration of Life, Jazzy Style for personal use or non-commercial use with friends, share this post link anywhere, quote a short excerpt with attribution and a link to this site, but you may not use this post in its entirety on your own page. Thank you for caring about copyright.